My Dearest Summer
Why hast thou abandoned us? What have we done that makes you shun us so? What terrible crime have we committed that you cannot bear to tarry a while in our company? All these long, wet days we have waited patiently, desperately, barbecues cleaned and ready, sun-loungers unfolded, for a sign - any sign - that you will soon return. Alas, the grey days stretch before us with nary a hope of bright weather ahead. And yet, we still believe, still hope against hope, that one day you will come back and light up our lives once again. We wait patiently, faithfully.
Forever yours,
The Plain People of Ireland and two Belgian tourists ...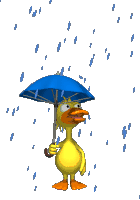 Friday, 8th August : Wetteren - Inchigeelagh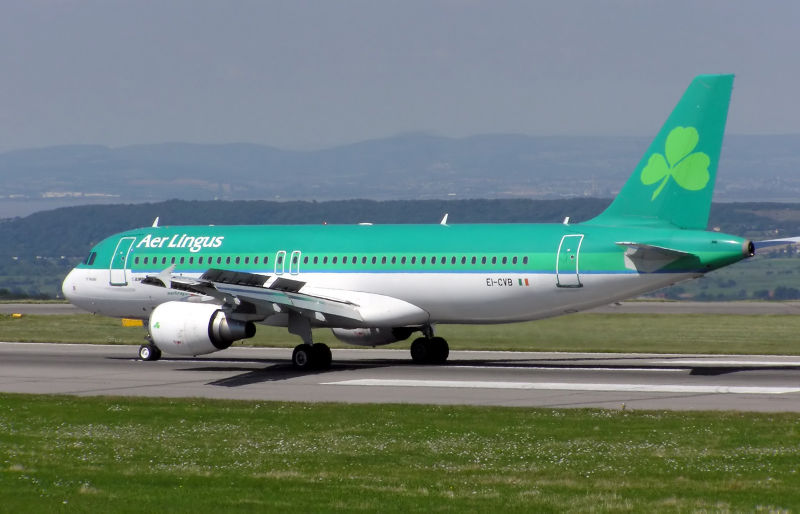 8.30... Sis picks me up and we drive to the station of Wetteren where we catch the train to Brussels-South. The TGV takes us to Paris, to Charles De Gaulle Airport. We have no problems finding the right coach and the right places (which isn't the case for everyone on board) but getting our heavy bags in the luggage compartments above our heads is far from easy. Fortunately, when we arrive in Paris, a nice young man helps us with our luggage. Chivalry still exists... We fly to Cork with Aer Lingus and there Miro from Eigenwijze Reizen awaits us. He takes us to Inchigeelagh to Creedon's Hotel where we arrive around 5pm local time.
We get our bikes which seem ok. Heavier than ours though... Sis installs the Klickfixes for our handlebars bags and landlord Joe welcomes us with a nice cuppa. After having unpacked our suitcases it's dinnertime. We get spinach tart with tomato salad, pork, cabbage, broccoli, potatoes in their jackets and ice cream with chocolate sauce. Delicious!! We find out we aren't the only cyclists there. A Dutch couple that arrived this morning already cycled around Loch Allua, our trip for tomorrow.
Saturday, 9th August : Loch Allua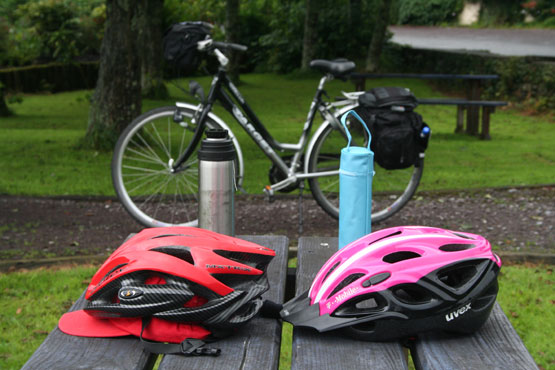 8 am, time to get up! We didn't hear a single sound of last night's family party and slept like a log. We both choose for the full Irish breakfast and get scrambled egg, sausages, bacon and cherry tomatoes. Also cornflakes, toast, fruit juice, yoghurt and ... tea of course! A good base to start cycling.
Only 13 miles today. After the last climb, we find a nice picnic bench to eat our sandwiches. We continue our way and notice we haven't read the route very carefully. We decide to return to the picnic bench, where we leave the bikes and enter the wood for a short walk to the look-out on the hill. The path turns out to be too slippery and too dangerous and since we don't want our legs broken, we go back to the bikes. Via a gravelled path we arrive at a small jetty and get a great view of Loch Allua and some brave fishermen.
Back at the hotel, we see this very cute oldtimer. The bride needed a toilet break. Sis takes some photos and all of a sudden we find ourselves in the pictures with the bride and bridesmaids.
For dinner we have mackerel salad with cucumber, salmon with courgette, red cabbages, chips, potatoes in their jackets and apple pie. Joe says: "You're eating the "Salmon of Wisdom" and he tells us the story. After dinner we sit next to the fire with a good book.
| | |
| --- | --- |
| | |
Sunday, 10th August : Dunmanway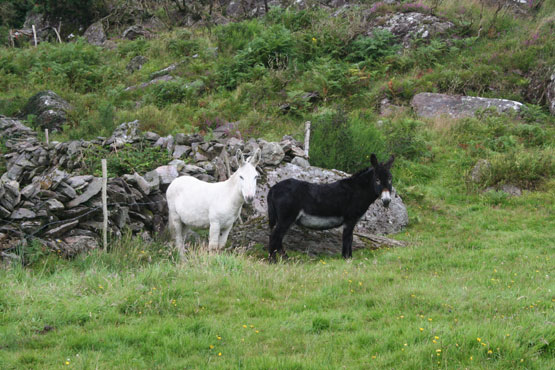 After brekkie we cycle south to Dunmanway. For a tiny little moment we see some blue in the sky, but it doesn't last long before the first raindrops fall. In Dunmanway we find a nice spot to have a tea break and just as we are about to continue our way, it starts pouring! It doesn't take us long to find some shelter under a lean-to of a supermarket, but by that time we are soaking wet! Fortunately the shower doesn't last long. Sis takes some pictures of a church, a churchyard and Sam Maguire's grave. We cycle to the centre of Dunmanway, take some more pictures and return to the picnic place to have lunch and dry our clothes.
We check the itinerary and get back on our bikes. Yes, and then we take the wrong way! We ride around a bit, think we finally are right and at this rather steep climb my chain slips off the gear! A good thing sis can fix it! We decide to be on the safe side and cycle back the way we came. Instead of 30 miles, we rode 40.
Dinner tonight: melon with straws and port, turkey with ham and veggies, roast potatoes and chips, cherry trifle with cream and custard.
Monday, 11th August : Gougane Barra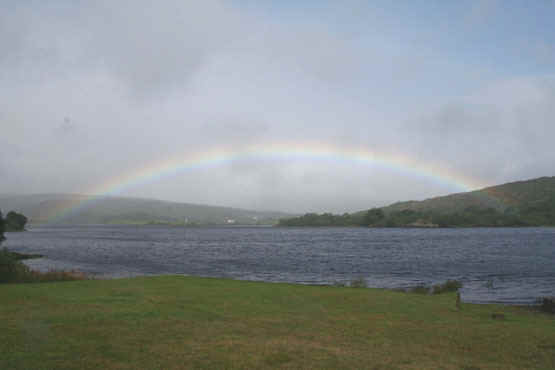 Long trip yesterday, short one today: Gougane Barra, place of pilgrimage and Forrest Park. After a few miles we decide to wear our rain trousers and ... won't take them off for the rest of the day!
After the Chapel of Gougane Barra, we cycle to the woods where we ride an extra lap. There's a gift shop and we buy some presents. Pity we only have our cycling bags with us. I would've bought more!
Back home, we take Kathleen's advice and visit Lee Valley Clothing. We enjoy a hot chocolate and cappuccino and I buy a pair of cat earrings.
Back at the hotel Joe and three ladies treat us to a private concert. They sing some wonderful songs and ... Joe composes a poem:
Sisters on bicycles
Out in the rain
Irish sunshine
They're seeking in vain
They come back to Joe
And he makes this refrain
The handlebars need a tweek
So a pair of pliers they seek
Hopefully they're perfect
By the end of the week
Dinner time: salmon salade, roasted lamb with veggies and potatoes in their jackets, meringue with straws, cheese and grapes.
Tuesday, 12th August : Macroom
8 o'clock! Yes! The sun is out!! Our joy is of short duration though ... By the time we're ready to leave for Macroom it's raining! So, off we go, wet or shine, to Macroom. It's Tuesday, market day. We expect a market like ours, but when we get there, all we see are some stalls with veggies, meat, flowers, cheese and nicknacks. There is however a lot of traffic: cars, buses, trucks ... a neverending stream. Neverending ... like the rain! Although we have some sunny spells. We ride back to Inchigeelagh and just as we get there all hell breaks loose! A good thing we're inside! We decide to stay in for the rest of the day and treat ourselves to an Irish Coffee!
Wednesday, 13th August : Ballymakeery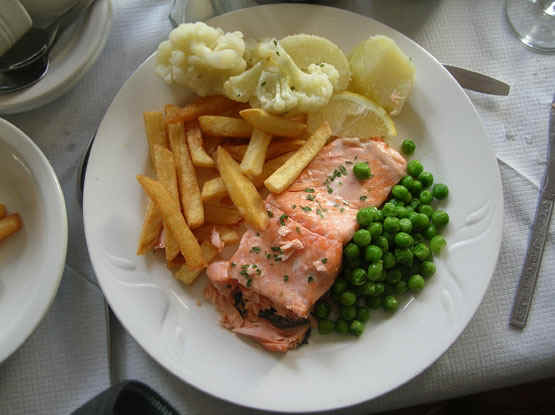 Oh my goodness! Everything's grey! It's cold, it's raining and there's a lot of wind! Doesn't look very promising... We head northwards and start with a sound climb. And then something happens. We are riding along this meadow, my sis as usual a few yards in front of me. All of a sudden a few cows start running like mad towards us and then next to us. It has rained a lot and there is a lot of mud and as I ride next to the cows I say to one of them: "Watch out, or you'll break your legs!" I don't feel at ease, cos the way those cows are running, it looks like a real stampede and as I reach the 1st one, I see its head going under the wire. That's all there is, one wire to separate the meadow from the path next to it. The path I am riding on!! I realise the rest of the cow is about to come as well and I have to get ahead of it or it will just throw me off my bike and crush me! You can't believe the boost of adrenaline I suddenly get!! I manage to pass the cow, just as it gets on the path, missing me and my bike by only an inch! I look back and see it is still running after me! The bad thing is that the path now goes uphill! I had seen the hill from a distance and had already decided to get off my bike and climb it on foot, but with that raging cow behind me, I get a second boost of adrenaline and climb that hill like I never climbed a hill before! I never knew my legs could go that quickly!! The moment the cow goes under that wire I scream like hell and my sis gets off her bike and turns round. All she sees is a cow running after me and she wants to take a picture! But then she sees another cow follows and she decides not to wait either!! We laugh a lot about it afterwards, but the moment I saw the cow storming under that wire, I really thought I was done for!!! I realise Wednesday, 13th August 2008 isn't the invisible date on my forehead!
A bit further there is a roadblock. The guys there tell us which way to go and it doesn't last long before we are back on track on our way to Saint Gobnait's grave. We pass a Holy Well with a wishing tree. We have brought an extra hankie and leave it in the tree, making our wish.
While we are climbing those hills, struggling against the wind and the rain, we can see that down in the valley, there's plenty of sunshine! Luckily our last miles are downhill and ... DRY!
Dinner: mackerel salade, salmon with chips, potatoes, green peas an cauliflower, fresh fruitsalad.
Thursday, 14th August : Kinneigh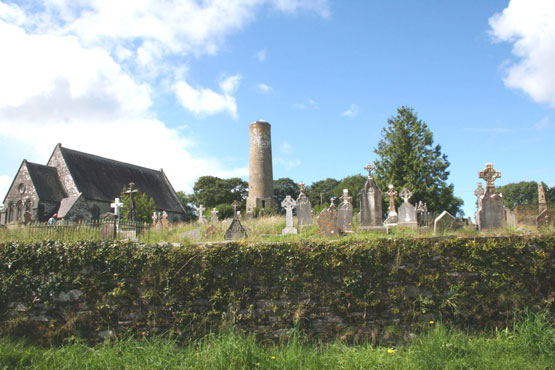 Yes! The sun is out! What a pleasant surprise!
The B&B across the street hasn't got enough rooms for a group of American tourists, so a few of them spent the night at Creedon's. Since they leave early we too have brekkie before nine 9am today. Joe sings "When Irish eyes are smiling" and "Danny Boy". He says a prayer with them and off they go. One of the ladies says "Au revoir" ... seems the rest of the world just doesn't know that half of the Belgians speak Dutch!
Time for us to leave. Today's trip takes us to the Kenneigh Round Tower. Only two showers today, not enough to get wet! I'm hoping of buying a book in one of the villages we cross. I already finished the two books I brought with me. No luck, no bookstores, so I buy some magazines. Later that day, Joe gives me a very thrilling book, called: The Eighth Day.
All of a sudden I don't see my sister anymore. I keep cycling and cycling, but ... no Marianne. So, I decide to call her. Just keep going, she says, you'll see me. And I do ... a few yards further...
No open fire today, well, it isn't cold. After dinner, we go back to our room. 15th August tomorrow and Ireland celebrates Saint Mary. There's a mass and after the service a lot of people come down to Creedon's for a cuppa.
Dinner: sirloin steak with chips, mushrooms, union, salad, peppers and cucumber, merinque with straws.
Friday, 15th August : Bantry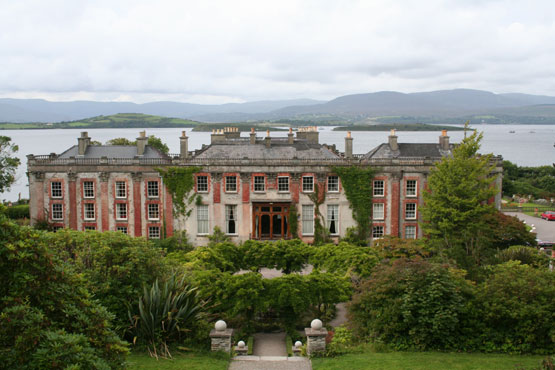 9am: time for brekkie. But when we enter the breakfast room, we notice there's no one in the kitchen and the tables of the after mass tea haven't been cleared. A little later our Dutch friends appear. They are leaving today and Miro will come to pick them up at 10am. Then one of the girls arrive, asking: "Joe isn't here?" She apologises and says: "I wasn't on breakfast duty today" and starts preparing our brekkies. After breakfast we say goodbye and leave with bag and luggage for Bantry where we'll stay for 2 nights at the Ada Na Greine B&B. We have a bit of trouble finding it, but when we finally get there we are welcomed by the landlord who tells us we can put our bikes in the shed. We decide to walk to Bantry and Bantry House. Bantry House and Gardens are beautiful. We head back for Bantry for dinner and have cod with roasted veggies and mashed potatoes. Back at the B&B, we see we have walked almost 7 miles. Good on us!
Saturday, 16th August : Glengariff and Garinish Island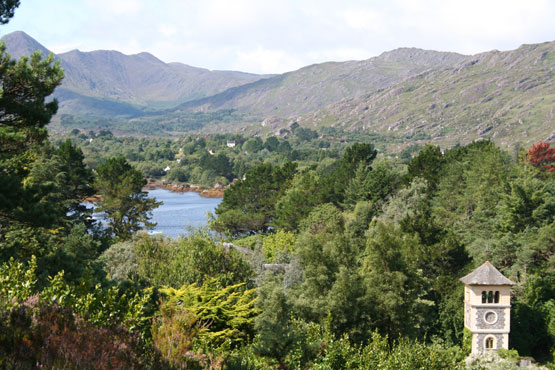 It rained all night and in the morning the skies are grey, very grey. But ... at least it's dry! Mmmm, it lasts about 7 miles. Then it starts pouring with rain. We had hoped to have sun today, cos we are visiting the gardens of Garinish Island, but it looks like it's going to be like this all day. The grey clouds hide the hills and the beautiful bay from view! But!! As we are descending to Glengariff the sun comes through and by the time we ask info at the Tourist Office the grey clouds have disappeared! We can leave our helmets and bags at the Ferry Office and when our ferry leaves it seems we're the only passengers. Ha! Isn't that great! Our very own ferry!! The captain tells us to have the girls at the tearoom call them when we are ready to return. We sail between two rocks where a few seals are basking themselves in the sun. The island is gorgeous! On the way back we have a great view of the hills and the bay. The weather stays sunny for the rest of the day.
We have dinner in a Spanish restaurant: seafood pasta: crab claws, king prawns, smoked salmon and Bantry Bay mussels in a white wine and cream sauce with spaghetti. YUMMY!!

| | |
| --- | --- |
| | |
Sunday, 17th August : Back to Inchigeelagh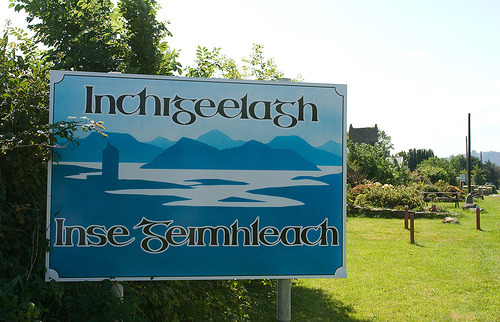 Today, we're cycling back to Inchigeelagh. The sun is out and our landlady assures us it'll be like this for the rest of the day. But as we leave Bantry Bay behind us, we see nothing but dark clouds and five minutes later the rain has caught us and will stay with us till we're back in Inchigeelagh!
It's a long and complicated route. Sis forgets to wait at a Y and turns right while I cycle straight ahead! It's downhill and I have tailwind and I cycle as quick as I can to catch up with her. I hear my phone and I'm convinced she's calling to ask what's keeping me. But I don't stop because I'm still cycling downhill. Still no sign of sis, so I decide to call her back and ... I don't like what I'm hearing!! I have to turn back! Uphill, headwind and rain!
This time we do find Togher Castle! We missed that last Sunday! But it's raining that hard and we are so soaken wet that we decide not to take a closer look. At a crossing we seem to be lost! We know Inchigeelagh isn't that far anymore, but we haven't got the faintest which way to go. Then we see two female walkers who say they admire us for cycling in that pouring rain ... yeah ... and ... we admire them for walking in that pouring rain. Not much later we arrive at Creedon's Hotel. Joe offers us some hot soup, but we prefer an Irish Coffee! In the evening we pack our bags. Tomorrow we're heading home!
Monday, 18th August : Going home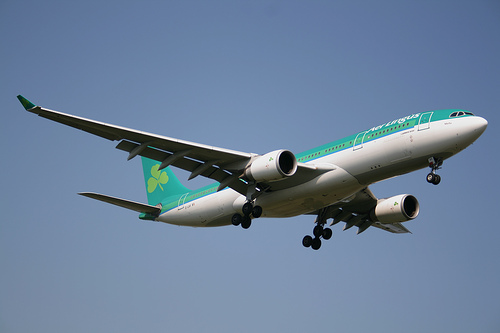 Early breakfast this morning. Miro picks us up at 8.30. We get a hug from Joe and off we go, back to Belgium. At Cork Airport I have to leave my bike repairkit behind. I left it in my hand-luggage where it had been the whole time. Was also there when we left from the airport in Paris ... Our plane is delayed, but we have plenty of time. We buy some last presents and say goodbye to Ireland.
No helping hands on the TGV this time, but we manage to get our heavy bags - mine got the label "heavy" at Cork airport - into the luggage racks.
Back home brother-in-law Werner has prepared a delicous meal. A very nice way to end our Irish adventure!